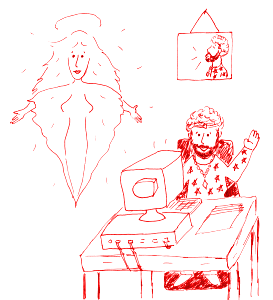 About the Author
(and her humble transcriber)
This book was conceived and composed by Selena Quixada, a ghost who has been practicing as a certified spiritual advisor for 127 years. She is also the admitted ghostwriter behind 5 of the 10 top Gothic novels of all time. Long overdue for an extended vacation, Madame Quixada has thought about writing a New Age Guide for Beginners for years, but has only recently found a student willing to transcribe her manual without taking credit for it.
Lyndon DeRobertis, her most recent pupil, has dutifully transcribed every word exactly as it was conceived by Mme. Quixada. He admits completely that he had nothing to do with its conception, and conversely is not responsible for anything his ghost writer has expressed.
It should be noted, however, that all proceeds from the book will be given to Mr. DeRobertis, since spirits, particularly enlightened ones like Madame Quixada, have no use for money, but lowly scribes do.
Therefore, Madame Quixada wishes you truth and fulfillment, and Lyndon DeRobertis thanks you for your money.

---