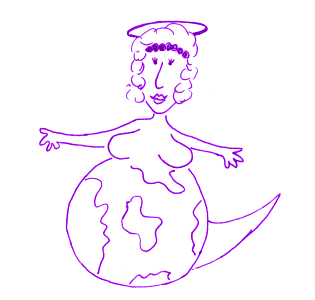 1. Gaia's gala guestlist of gorgeous giant goddesses.

One of the most popular New Age beliefs is that God is a woman, known through the years as Isis, Astarte or Gaia. Only a woman could have lovingly carried the world inside Her and painstakingly let it be born into existence.
You can imagine how upset She is, having watched Man walk all over Her children and trash Her world. When he's through destroying her lovely Creation, and it won't be long away, our Heavenly Mother will be throwing a gala bash, and unless you men shape up and start treating your better halves with the respect they deserve, you won't find your names on the guestlist. And contrary to what you may be thinking, this is one party you won't be able to crash.




---